The mud may be soft but the Creek is a hard environment and the bigger you are the harder it gets. For swans it's a good feeding ground and shelter but far from ideal for fight or flight or breeding. In fact it's dangerous. When fighting breaks out it is hard for the defeated to escape and if they take flight they can collide with walls, buildings or bridges when taking off in a panic. Even when not in a panic accidents happen and several swans have been injured or killed by flying into obstacles over the years.
The breeding pair of swans lose several or most of their young every year and in one catastrophic year one pair lost all of them. The resident pair Queenie2 and Buster have raised two broods in the last two years. In both years 6 were born and 3 survived. So they've done well. This season was set to be fair. They are now an experienced pair of swans in command and capable.
In February another pair of swans came into the Creek and launched an attack against the reigning pair. But Buster and Queenie saw them off. They were victorious.
In early March Nick and Alf discussed what needed doing to make the nesting platform suitable for Queenie and Buster again this year. Alf carried out necessary repairs to the platform and then there was the usual problem of where to get straw from. Then the growing menace of Corona led to the lockdown and an end to the thought of getting straw. Nick decided to go for local and gathered the finest twigs of hazel, dogwood and privet to go with the buddleja base that Alf had put on the platform. The following day Queenie had started to arrange these to suit her taste.
After spending the day working on her new nest she snuggled up for a good rest in the warm evening glow, and all was well in Deptford Creek.
The following morning Alf called about an injured swan someone had seen in the Creek up near Lewisham College. Nick went up and approached slowly and cautiously. As the swan moved he could see it had injured its right leg or foot and was unable to stand properly.
Nick consulted the team and discussed the options available to him and the forlorn swan. We decided to contact the RSPCA for help or advice. Meanwhile Nick went back and got close to the swan to try and catch her to bring her down towards the Centre before the tide came in. The swan went into the river as he approached and it could swim fine with one usable foot. This was a relief.

Given the incoming tide and the uncertainty around the severity of the injury, the RSPCA suggested to wait and see how bad the injury was. The tide rose and the swan went on to the nesting platform later to be joined by her mate. Fingers crossed some rest and recuperation would do the trick!
The following day, as Nick approached the access beach to the Creek he immediately knew something was amiss... There on the beach in front of him, as if asking for help, was the injured Queenie.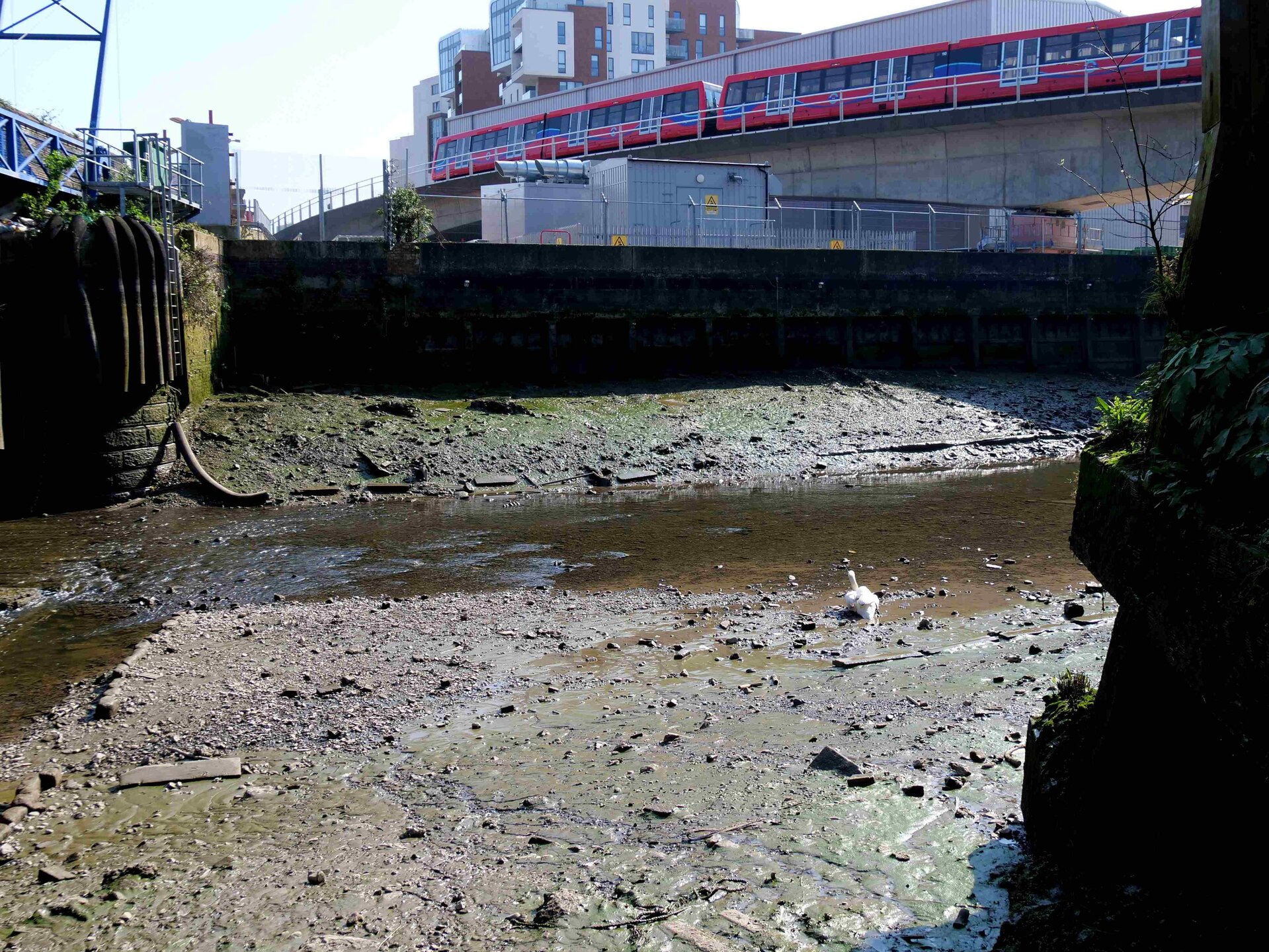 The injury hadn't improved at all since the day before so some more phone calls took place. At this point things began to happen very quickly. Nick spoke to me and a decision was made to contact the RSPCA again. The second I hung up the phone, I received a call from a strange number. It was Mat, from the RSPCA, and he was in Creekside as we spoke! I guided him to the swans location over the phone and told him he should be able to see a man with a big beard (!) in the river below. Safe in the knowledge that he would be able to tend to the injured Queenie immediately I left him to it and waited to hear back from Nick. When I next spoke to Nick he mentioned that he was initially confused when someone had started shouting his name from the river bank, but I think confusion quickly turned to relief when he realised it was Mat and that he would be able to help our injured bird. Mat had helped last year with another injured swan.
Mat inspected Queen and called colleagues to discuss the injury. They decided she needed to be taken in to be seen by a vet. Mat caught Queenie and carefully wrapped her in a 'swan bag' so he could carry her safely to his vehicle. Queenie was off to hospital, and we all crossed our fingers for here safe return.
News came through that the vet had found her injuries were very serious and she was taken to South Essex Wildlife Hospital (SEWH) for treatment. Unfortunately despite the best efforts of Mat, the RSPCA and SEWH, Queenie had to be put to rest as her injuries were too severe. She had a broken pelvis and a broken leg. This was difficult news for the team, especially those who had know her and Buster very closely over the past few years. Our story takes a pause here. All went quiet in the Creek in the absence of Queenie. However the story hadn't ended.
There were some discussion between Mat and Nick about the sex of the swan as the first vet had thought it was a male. But unfortunately it was too late to check details. We continued to assume it had been Queenie.
Queenie though decided to put this debate to rest in the most certain of ways, as Nick discovered over a week after our initial drama...
Yes, that's a swan egg. And yes, it was laid on the nesting platform in Deptford Creek. By a swan we thought to be dead. It seems even the best of us are wrong sometimes! So, another layer was added to the drama - it wasn't Queenie, it was in fact Buster who had bit the mud! At this point we were as excited as we were confused! Had Buster and Queen got busy? Were the eggs fertile? (we've had a female swan sitting on empty eggs before now). But again, the drama didn't stop.
Nick continued to monitor the situation. He observed Queenie going through a thorough cleaning process, and remarked that it seemed solemn, even ritualistic.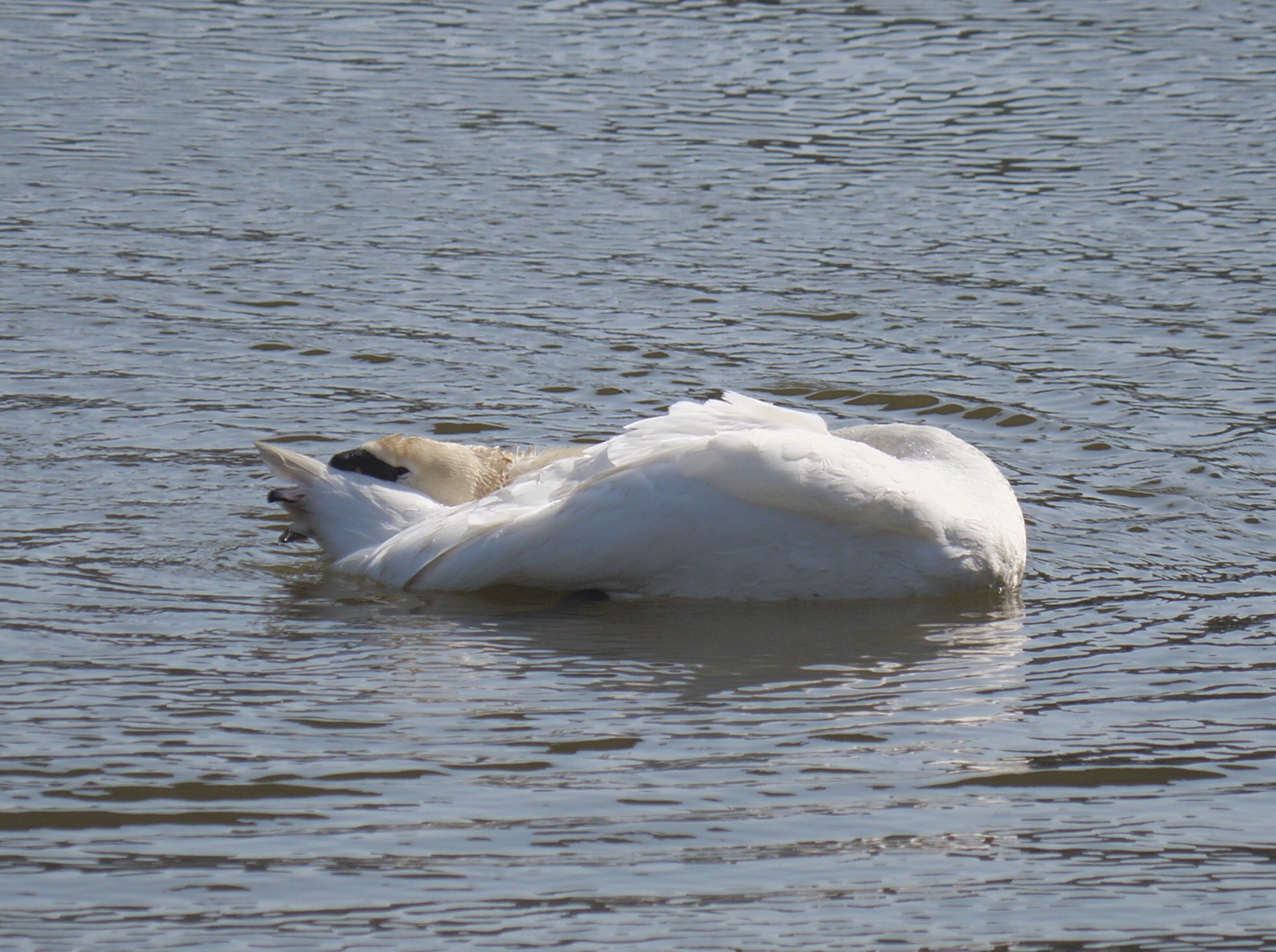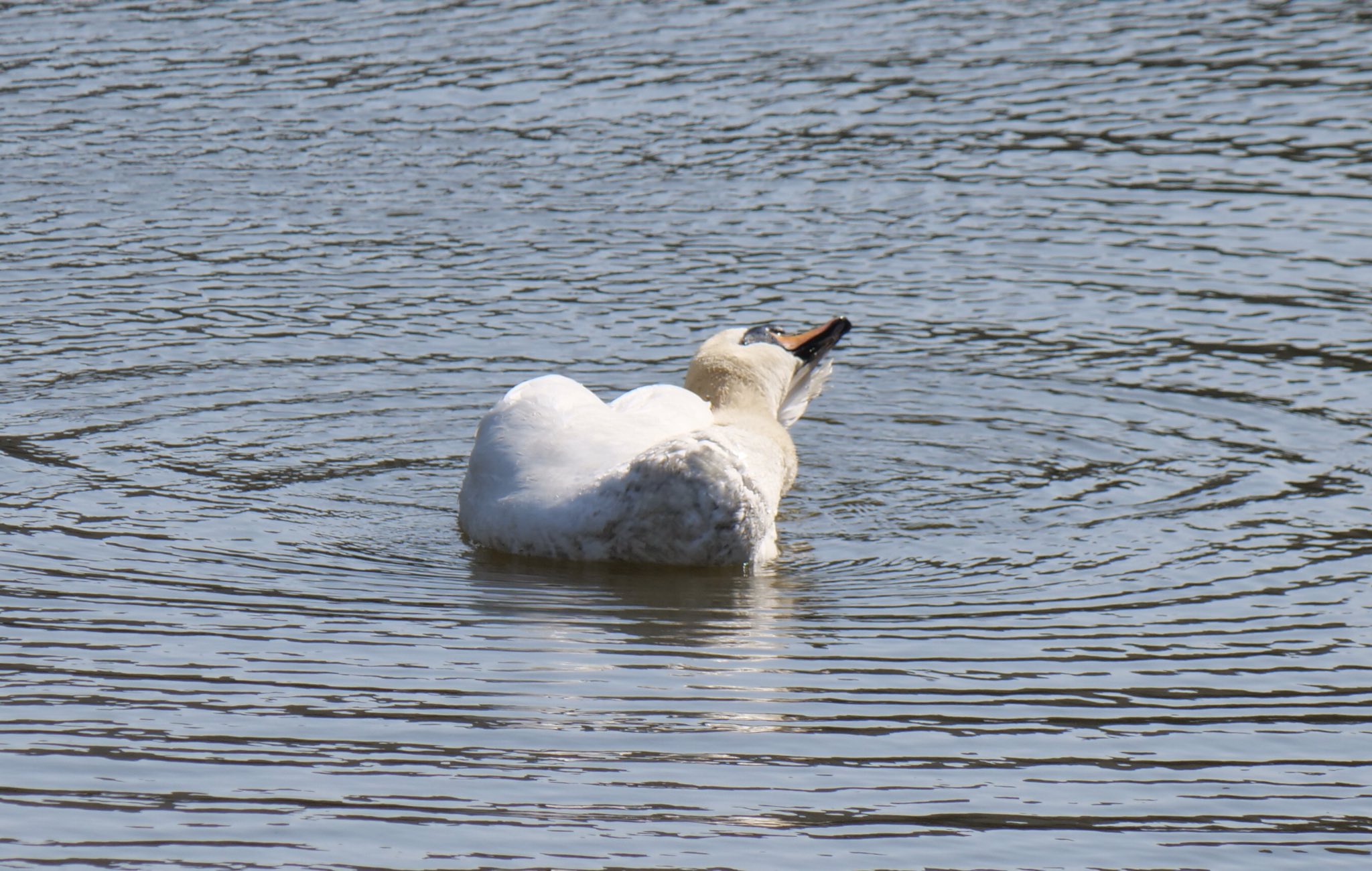 She still had control over the nesting platform at this point it seemed, however, the loss of her mate placed her in a difficult position. A pair of swans can take on all comers. But a lone swan is vulnerable and can be outflanked and pushed aside The situation was further complicated by the arrival of new swans to the Creek. Another pair turned up, and they were seen chasing away a young swan, possibly one of Queenie and Buster's young from last year. This maybe the same pair that had tried to oust Queenie and Buster a few weeks ago. The battle went on for some time and Buster and Queenie fought them to a standstill but they held possession of the prize that is Deptford Creek. Queen could not do this now she was alone.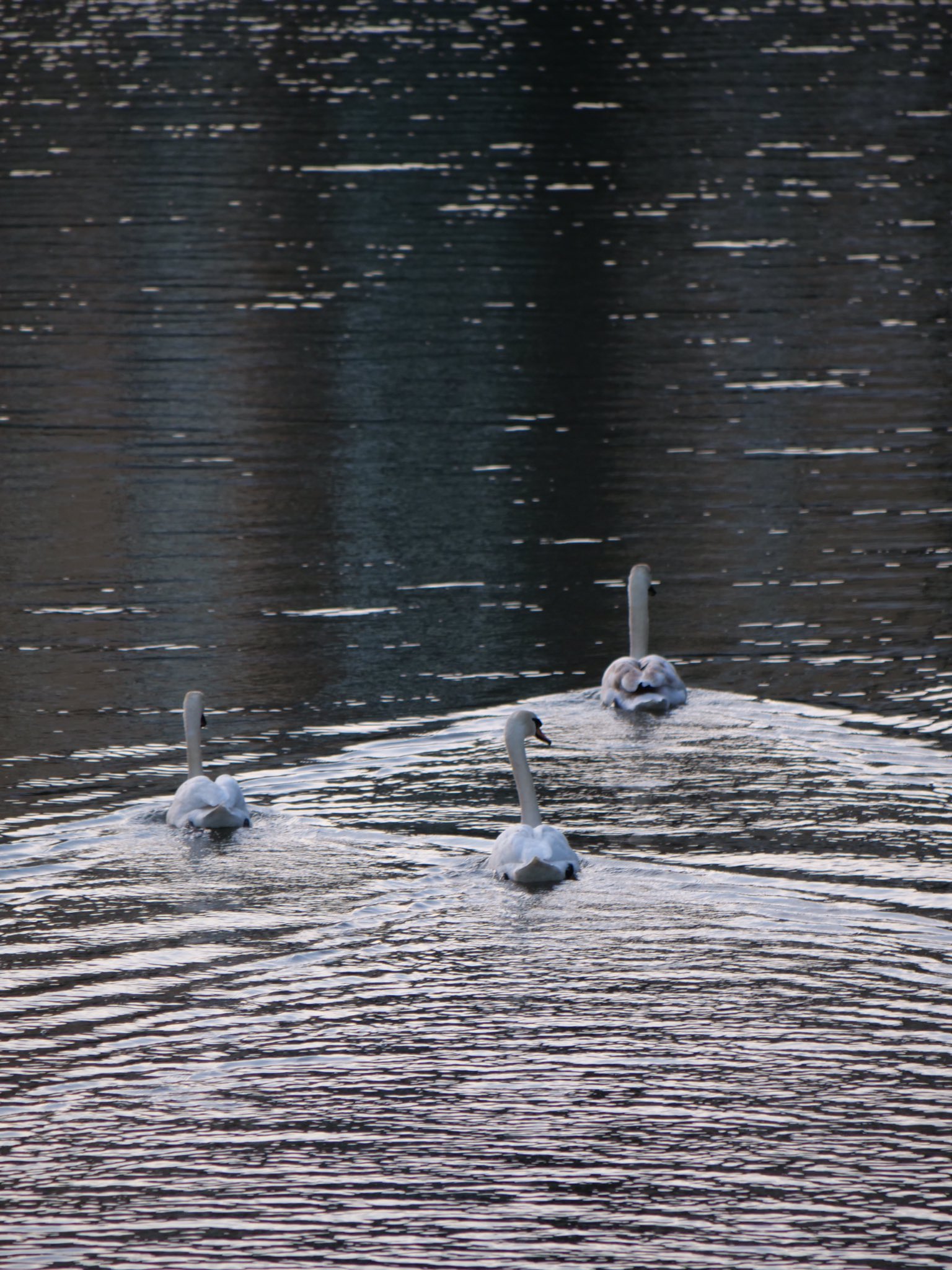 Hard times for the swan can be sauce for the goose. In the midst of all this drama, another competitor emerged to stake claim to the hallowed nesting platform. Canada Geese. Queenie's compromised position was untenable and this clever little pair swooped in to claim the prize. It seemed likely at this point that the geese would have ejected the egg, but we did get some joy from the fact that we may have an Ugly Gosling situation on our hands!
Queenie was ousted. She was seen a few days later on the Thames by Pepys Estate, had she given up? It soon became apparent though why she may have left the platform unattended. Rounding the meander upriver from the platform just this past Monday, Nick discovered not one, but two swans - had she found herself a new fella?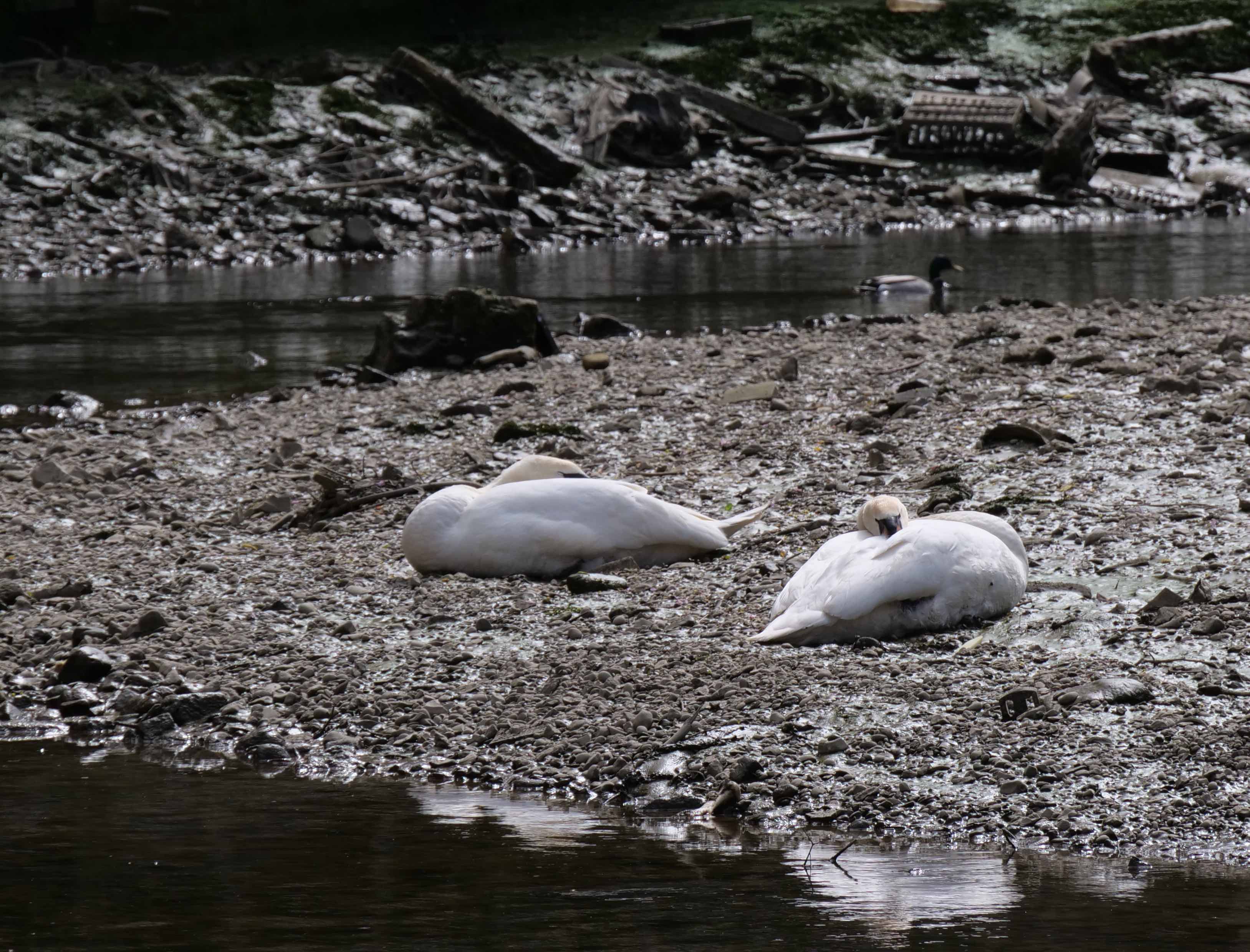 A story of ups and downs I'm sure you'll agree! What happens next is anyone's guess. Maybe we haven't seen the last of Queenie? Maybe we will have a new pair of swans on the Creek? Or maybe the geese will continue to hold the fort?
Nick documented this story as it happened on Twitter, and it was also shared in weekly updates on Instagram and Facebook. If you want to stay up to date with regular wildlife updates please follow us on our social media channels.
We wait to see what happens next. Thanks for reading!
Paddy @ Creekside Discovery Centre
< Wildflower Pop Up
Take a virtual look at spring wildflowers around Deptford >